Strategies for Rural Development in Areas with Limited Public Infrastructure: Alternative Septic Systems
Decentralized Wastewater Systems - A Resource Manual for Municipal Officials and Developers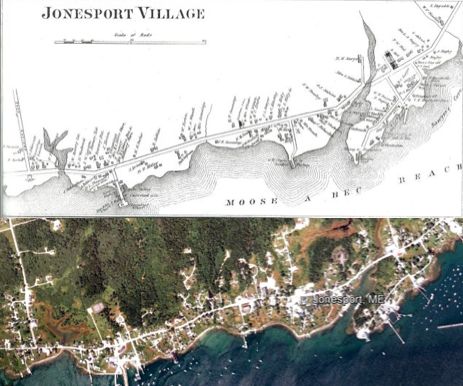 One of the biggest challenges facing towns in Maine is how to grow successfully without constructing new public waterlines and centralized sewer systems. Communities want to direct growth through their comprehensive plans to the most suitable areas of town, near existing services or expanding traditional villages, but most lack the fiscal resources to establish or extend public water and sewer service. Thus, any new development must rely on wells for drinking water and subsurface soil dispersal, usually on a lot-by-lot basis, to handle wastewater flows. Conventional wisdom holds that onsite wastewater disposal requires large minimum lot sizes. However large scattered lots can negate the effectiveness of designating a growth area for economic development and many small town villages with small existing lots need to address/expand current septic disposal capacity.
In the last 25 years, Maine soil scientists, engineers, and regulators have made great strides in implementing successful subsurface disposal systems on smaller lots, with the help of improved technology and a broader empirical knowledge base. New techniques and pre-treatment options, multiple-user alternatives to individual onsite septic systems, and advances in the science and art of septic system design have resulted in significant changes to state-mandated rules for subsurface waste water disposal, challenging many of the traditional assumptions. For instance, there is no strong evidence that lots need to be any larger than Maine's mandatory minimum size of 20,000 square feet to ensure a well-functioning onsite septic system, even in poor soils. (For examples of occasional exceptions to this rule, where additional lot size may be required to meet local or state wastewater standards, please click here.) It is possible to comply with all state subsurface wastewater disposal rules and environmental best management practices to develop economically viable growth areas, without the cost of building or extending public water and sewer lines.
Appropriate use of wells and septic systems in growth areas will require advance planning, an awareness of available technologies, a willingness to consider multiple-user systems, and a strong commitment to ongoing system management and maintenance. It will also require property owners, developers, and municipal officials to work together to identify new methods and equipment that can facilitate growth using decentralized water and wastewater infrastructure.
A Developer's Perspective
For property owners who are considering subdividing their land, for developers planning larger subdivisions and mixed-use developments, and for realtors who help property owners determine the highest and best uses for their land, the construction of a subsurface disposal field to be shared by several residential lots can significantly reduce the required size of individual lots within the development.
Smaller lots will reduce the infrastructure cost for roads, electrical power and telephone lines, and more individual lot sales on a given acreage will contribute to a higher net return on investment for the project. The development can be phased so that sales of the first few lots can help to pay for developing the rest of the project, as long as the lots are laid out so they will all be able to connect their individual septic tanks to the shared subsurface treatment and disposal system. When coupled with project infrastructure savings, a shared community septic system can be an attractive lower-cost alternative for successful site development.
A Municipal Official's Perspective
For land use planners, municipal officials, and sanitary district officials, it is important to know that state-of-the-art technology, design, and installation practices have greatly reduced the risk of septic system malfunction. The science and practice of subsurface wastewater disposal have advanced considerably since the days when septic system failures on smaller lots were relatively commonplace.
The risk of failure can be reduced even further through a variety of strategies, including:
ensuring professional management service for decentralized subsurface systems;
requiring the use of state-approved pre-treatment technologies in environmentally sensitive areas;
tying into public water lines where available, to reduce the separation distance (and therefore the lot size) required for onsite septic disposal systems; and
developing a public outreach program to educate system users about best practices and maintenance schedules to keep their onsite or shared septic systems working properly.
Three Examples for Growth Without Sewers
Please note that all of the following case studies, while borrowing from actual situations as described in comprehensive plans, are hypothetical. They are intended to be generic, with applicability to many Maine towns
Construction of a community wastewater system to accommodate development on a single large property, with the system then turned over to an existing sanitary district to own and manage.
Creation of a new community sanitary district established specifically to manage decentralized wastewater disposal from new development on two or more properties within a designated growth area, with construction in advance of such development.
Reducing the lot size requirements for onsite wastewater disposal by connecting subdivided lots to an existing public water line, thus eliminating the need for extra acreage to provide the required offsets between a drilled well and a septic field.
Some communities may not be in a position to implement community wastewater disposal systems that take advantage of existing sanitary districts, new community sanitary districts, or public water supplies. Even so, the science, practice, and rules of subsurface waste water disposal have advanced sufficiently over the last quarter-century that some of the widely held notions about appropriate lot sizes for onsite septic systems are no longer valid. It is possible to comply with state subsurface wastewater disposal rules and environmental best management practices, while achieving economic development goals in designated growth areas using individual septic systems and wells on relatively small building sites. For further discussion see: Lot Size, Site Evaluation & Improvements in Technology and Inspection
Acknowledgments and Credits
This online document is an update to previously unpublished work that was conducted for the State Planning Office (SPO) in 2003 by Stone Environmental, Inc., under a grant from the National Oceanographic and Atmospheric Administration (NOAA). This online document, also underwritten by NOAA, was conducted for SPO by the Washington County Council of Governments (WCCOG) and its subconsultant firm, GreenLight Solutions, LLC. All photos, diagrams, and composite images used herein, unless otherwise credited, were originally produced by Stone Environmental, Inc. and Evan D. Richert.
Related Work Plan Components
Municipal Training
For more information on the Decentralized Wastewater Systems On-line Resource Manual or to arrange training with your municipal officials please contact: Judy East 454-0465