Washington County Energy Planning
Affordable Heat Consortium
A project of Thermal Efficiency Eastport and Minerva Partners, the Affordable Heat Consortium sought out collaborators in Washington County (Washington County Council of Governments, Sunrise County Economic Council, Northern Maine Development Commission, the Eastport Energy Committee, and the Design + energy Lab at Harvard's Graduate School of Design) and was successful in obtaining a Maine Technology Institute Cluster Initiative grant.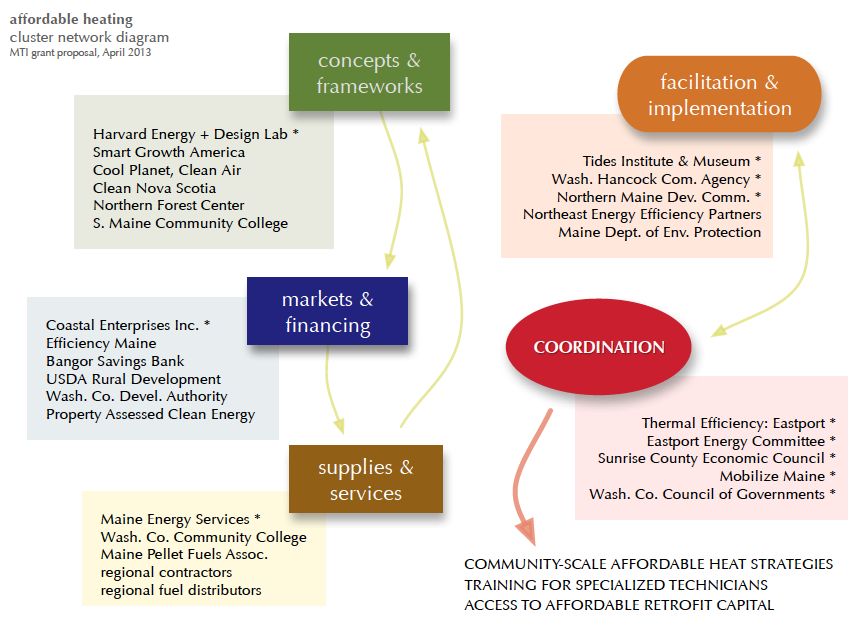 As project coordinator Jon Calame eloquently and succinctly writes in the overview of the MTI proposal:
"Affordable heat" is a major concern in Maine and is firmly anchored to the relatively large and mature domains of renewable energy, clean energy, energy transition, and climate change mitigation. Maine's "affordable heat" infrastructure is currently broad but shallow, with low awareness of overlapping efforts and weak market penetration. Many resources are underutilized. This is a cross-cutting cluster of markets, services, and products that needs to define its interests, articulate its agenda, and convene around a shared action plan.
An "affordable heat" consortium in down east Maine would accelerate the diffusion and deployment of proven heating systems and fuels that would bring cheaper, healthier, and more efficient warmth to non-affluent communities. Such a permanent consortium would serve as a collector and distributor of vertically-integrated heating solutions, ready to feed them into strategies for community-led innovation that deliver guaranteed cash savings, increased comfort during winter, a cleaner environment, and better physical health.
The Affordable Heat Consortium has met once with a 2nd meeting planned in May of 2014.
The product of initial the meeting and research can be downloaded here.
Three primary action items to be discussed in May include:
a blueprint for a permanent regional public-private energy service company (or similar financing vehicle) to address front-end costs of retrofit for non-affluent property owners;
an information storefront (reliable place), technical assistance referral network (reliable URL), and 'affordable heat coach' (reliable person) to increase access to non-partisian information about options;
transitional demonstration projects (bricks and mortar) in Eastport and vicinity to show the benefits of a concerted approach to investment in affordable heating alternatives.
For more infomration on teh activities of the Affordable Heat Consortium in Washingotn County please contact Jon Calame.