Transportation Access & Cost in Washington County
Rural Transit Agencies Serving Washington County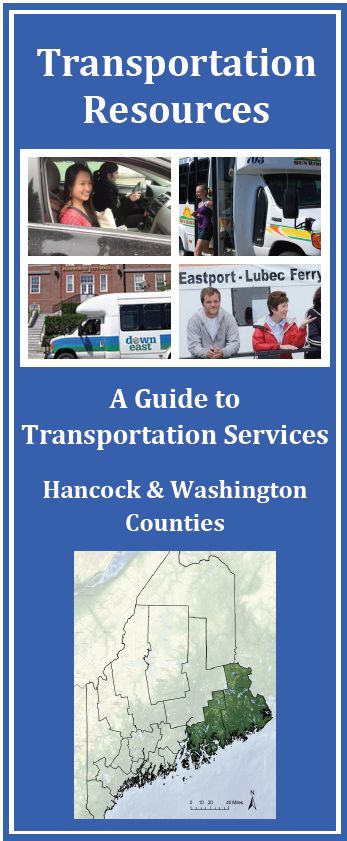 The Downeast Acadia Transportation Access Team is a collaboration of regional organizations and volunteers working to increase access to transportation for all people in Washington and Hancock Counties.
This partnership includes:
Washington County:One Community
Washington County Council of Governments
Indian Township Tribal Government
and a large network of volunteers.
This partnership produced the Transportation Resources brochure at right (click the image to download).
it provides contact information, types of service and some schedule information for all transit providers serving Washington and Hancock Counties.
Public transportation service is available in Washington County primarily to deliver social service clients to their appointments. A 2009 ridership survey (download survey results here) conducted by Maine Rural Partners documented that most people who use West's Transportation and WHCA Sun Rides are highly satisfied with their transit experience, and appreciate the great customer service that the drivers provide.
However as the services are used primarily to deliver clients to social service and medical appointments it does not adequately meet the larger business needs of the region. See Workforce Transit Challenges.
Innovative ways of addressing rural transit especially for workforce development was provided at the November 6, 1013 Downeast Acadia Transportation Summit and Workforce Transit Options are further described here.