Climate Change & Infrastructure Resilience
Climate Vulnerability Assessment
Climate vulnerability assessment (CVA) is a collection of tools and analyses used to understand how we are vulnerable or resilient in terms of impacts on people, infrastructure, public health, natural systems, and the economy. It asks what systems, species, populations, entities, facilities and infrastructure are most vulnerable to expected climatic changes, often depending on factors such as exposure, sensitivity, and adaptive capacity.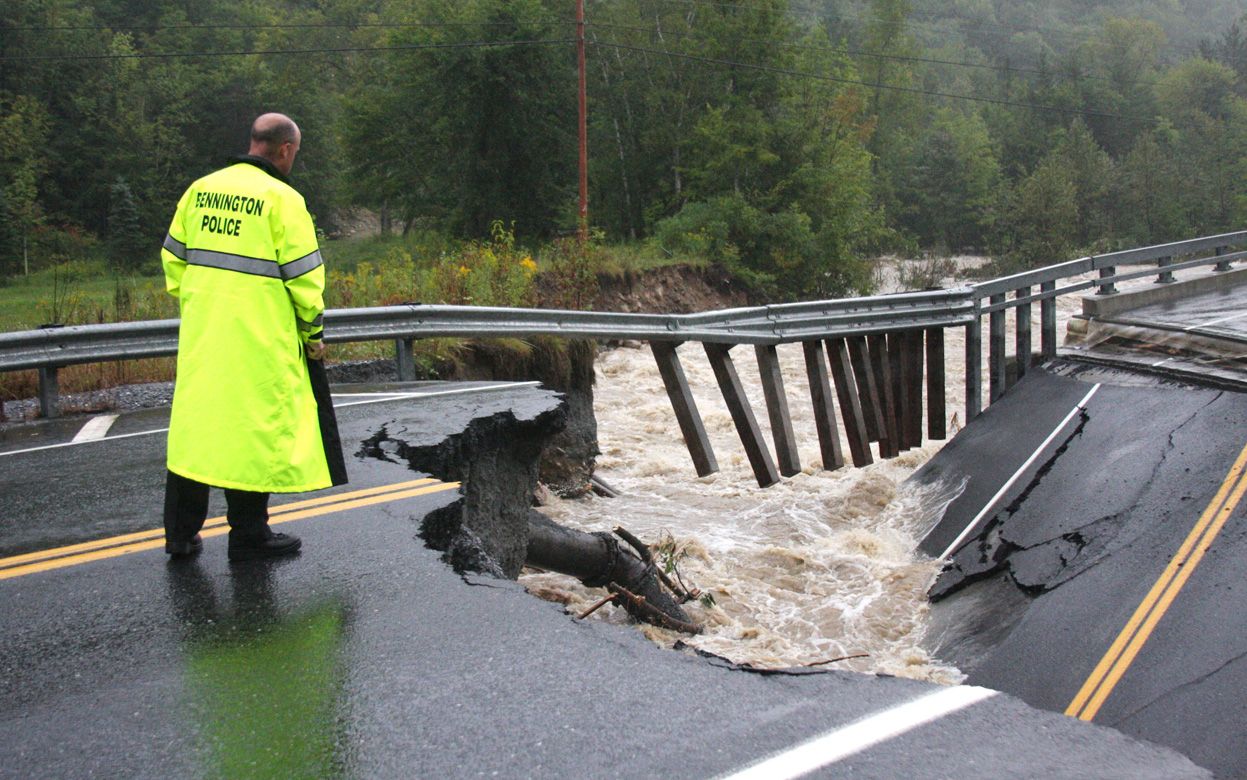 Geographic information systems (GIS) mapping tools are a powerful means of:
visualizing our vulnerability,
recognizing the gaps in our understanding of our vulnerability, and
focusing our efforts on gathering necessary information and preparing for risk and change.
In the fall of 2013, the Washington County Council of Governments, working in cooperation with the University of Maine at Machias GIS Service Center presented a series of town- and bay-specific climate vulnerability assessments (CVAs) that anticipate a variety of storm impact scenarios.
Input received from municipal officials is summarized in two files linked below:
Audience input from September 25 (Jonesport, Belas, Addison), October 9 (Milbridge, Steuben, Harrington, Cherryfield), October 29 (Calais, Robbinston), November 12 (Lubec, Eastport, Perry, Pembroke, Whiting, Dennysvile, Trescott/Edmunds, Pleasant Point)
Audience Polling November 19 (Machias, East Machias, Machiasport, Roque Bluffs, Cutler)
This input was used to add data layers, create static and on-line mapping scenario tools, and to develop the Climate Vulnerability Assessment reports.
Click here to view the town- and bay-specific Climate Vulnerability Assessments completed in 2013-14 for Washington County are all available on-line.
SLOSH Model Output
The GIS Service Center adapted the Sea, Lake and Overland Surges from Hurricanes (SLOSH) model, a computerized numerical model developed by the National Weather Service (NWS)[1] to estimate storm surge heights resulting from historical, hypothetical, or predicted hurricanes by taking into account atmospheric pressure, size, forward speed, and track data. The SLOSH model is applied to a specific locale's shoreline, incorporating the unique bay and river configurations, water depths, bridges, roads, levees and other physical features.
The bay-specific CVAs were based on SLOSH model output of a hypothetical but entirely plausible hurricane that makes landfall in Penobscot Bay. The CVA presentations identified vulnerable infrastructure and vulnerable populations for first responders and public works personnel and sought their input and feedback for refinement of the assessments.
A note on data
Until mid-2012 our only source of flood mapping information, the FEMA flood maps, was useless, at best, and expensive and dangerous, at worst, because of error and imprecision. By May of 2012 we obtained the precise LiDAR (light detection and ranging) elevation data for use in the elevation model (at least along the immediate coast). This allows us to make a much more accurate assessment of what actually is vulnerable to flooding for the coastal areas. We do not use the FEMA floodplain data for our analysis for storm surge and will not use it for models of river flooding unless FEMA improves its quality.
Outreach and Model Refinement
The initial CVA outreach strategy put a focus on first responders and municipal officials in charge of roads and public services. Feedback directed us to add the following information to the scenarios and CVAs:
single and 3 phase electric utility infrastructure,
culverts (more inventory work needed),
working waterfront (led to a successful Coastal Communities grant to extend the inventory),
historic storm surge heights,
public and private fuel storage facilities,
vulnerable populations (additional inventory needed; confidentiality provisions) and,
specific adaptation, preparation and response actions.
All audiences were very interested in having on-line access to the data and the mapping scenarios. In addition to on-line access to the inundation scenarios we completed a users guide to assist anyone with navigation and running of alternative scenarios (insert link to guide). Towns who request one we receive a town-specific Climate Vulnerability Assessment.
---
[1] According to the NWS, the surge height predictions from the SLOSH model are accurate to within +/-20% for storms that follow the track and force patterns within the model. National Weather Service Sea, Lake, and Overland Surges from Hurricanes (SLOSH) Model. 2013.
http://www.nhc.noaa.gov/surge/slosh.php