Healthy Communities
Washington County Public Health Initiatives
Local Public Health Assessment Plan
Local Food in Washington County
Physical Activity Opportunities in Washington County
Washington County: One Community - our Healthy Maine Partnership (off-site link)
While the substance abuse statistics for Washington County can be discouraging it is critical to recognize that the problem is not unique to our region or our state. The difference between those communities and regions who change and/or thrive in the face of substance abuse is the support and involvement of the community. And on that score Washington County is demonstrating success.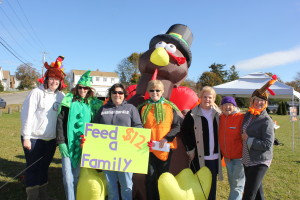 The annual work plan for the Healthy Maine Partnership, Washington County: One Community (WC:OC), is replete with ideas, programs and policies to address the health disparities, food system gaps and substance abuse problems. Several of these programs are noted below (Implementation Already Occurring); they are supported through a whole variety of state and federal funding sources and WC:OC is continually seeking resources to continue or expand them.
Of equal significance to the success of these programs are the people – staff, volunteers, stakeholders – who participate in their communities. This participation includes schools, health care providers, parents, social service agencies, church and ecumenical organizations, food pantries, and those who provide technical support to businesses, residents and children; in short the entire community.
While the literature that provides program and policy recommendations for addressing problems of chronic disease, obesity, tobacco use, means of being physically active are often produced by State and Federal agencies, non-profits or educational institutions - the vast majority of their specific implementation measures are community-based.
Implementation Already Occurring
The programs of Washington County: One Community that reach out to youth and adults span the public health spectrum. They include:
Tobacco Cessation and Substance Abuse Prevention - tobacco-free and tobacco cessation programs work to reduce exposure of children to second hand smoke, raise awareness of prevention assistance programs, provide tobacco-free policy for public events, and increase the number of retailers adhering to Maine NoButs! Program that limits tobacco sales to minors. Likewise, businesses and law enforcement collaborate on strategies to reduce underage drinking; schools, parents and businesses support open discussion of risks associated with under-age or binge drinking.
Farm and Food programs – Farm to School including curriculum outreach, vermiculture, recipe and menu planning for school cafeterias; FoodCorps service leadership; support to the Food Pantry network; greenhouse materials & construction at discounted prices; support in the formation of a regional food council and healthy eating initiatives.
Nutrition programs – We Can! (Ways to Enhance Children's Activity & Nutrition) public education; SNAP-Ed (Supplemental Nutrition Assistance Program) providing nutrition and cooking classes for residents receiving SNAP benefits; 5-2-1-0 Let's Go to encourage kids and families to et 5 servings of fruit and vegetables, 2 hours or less of recreational screen time, 1 hour or more of physical activity and 0 sugary drinks.
Living Well programs – worksite wellness; Keep Me Well health assessment tool; Screen Washington County to increase awareness and actual screening for colon cancer; free Breathe Easy signs to reduce exposure to second hand smoke; Tobacco Free Pledge resources; Healthy Homes information on lead exposure, testing and education on symptoms of high lead blood levels; information on trails in the region
Youth programs – Washington County: One Voice youth coalition; Jobs for Maine Graduates profiles; Downeast Teen Leadership Camp for students entering grades 7,8, and 9
School and Community programs – Coordinated School Health Program, an 8 part program to improve kids health and capacity to learn; Transportation Infrastructure and access to Quality Health Care including collaborating with regional partners to improve transit options and publication of a Transportation Services Guide; Annual October Turkey-A-Thon to raise funds for the Food Pantries