Transportation Infrastructure for Economic Development
Existing Regional Transportation Plans
There are several recent planning documents that provide inventory and policy direction on transportation infrastructure to support economic development in Washington and Aroostook County. Links are provided below to most of these studies with a short summary of their contents.
The Transportation Infrastructure Workgroup will review the analysis of these documents to agree on the current relevance and priority of the policies and investments that they recommend.
Transportation Corridor Management Planning
There are 38 Corridors of Regional Economic Significance for Transportation (CREST) in Maine. The CRESTs were identified by the Maine Department of Transportation (MaineDOT) with the assistance of the regional planning agencies working with committees of citizens between 2005-2007. This public process generated a Regional Transportation Assessment (2005) and a Strategic Investment Plan (2007) for each county (links provided below).
Aroostook County
Regional Transportation Assessment (2005)

Strategic Investment Plan (2007)
Washington County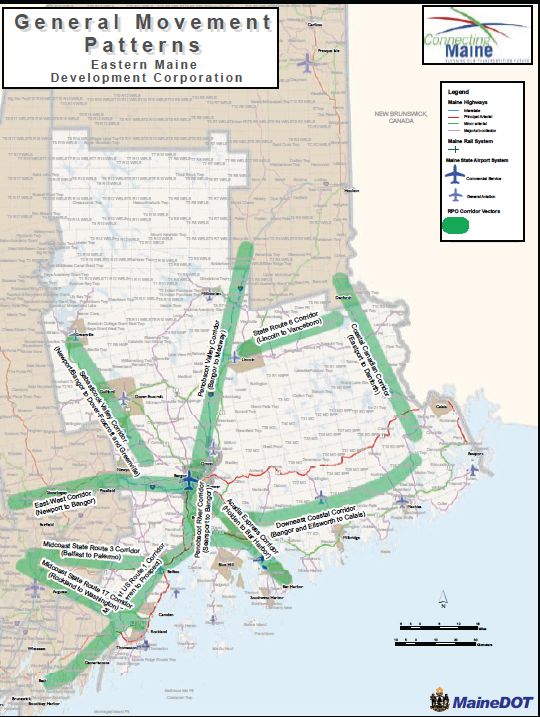 The CREST system allows MaineDOT to focus its planning efforts and limited financial resources on statewide multimodal transportation corridors that have the strongest and broadest economic significance for each region of the state. The corridor management plan for each CREST, developed and supported by regional stakeholders, provides an advisory roadmap for MaineDOT decisionmakers as they plan and budget for maintenance and improvement of the corridors over future biennial funding cycles.
Each corridor management plan serves as a regional supplement to the MaineDOT publication Connecting Maine, the state's long-range transportation plan. Connecting Maine identifies statewide and regional challenges and opportunities through the year 2030, establishes goals and performance-based strategies to address these issues, and identifies funding shortfalls that must be overcome in order to keep Maine economically competitive with a high quality of life that attracts and retains residents, businesses, and visitors.
In the Aroostook-Washington region there are 8 Corridors of Regional Economic Significance to Transportation; 5 in Aroostook County and 3 in Washington County (shown at right; click image for Chapter 8 - Eastern Maine - of Connecting Maine; note 2.7MB file). Summaries and links to Corridor Management Plans for each CREST are provided below.
Existing Transportation Planning Documents in Aroostook County
Central Aroostook Connector Corridor Management Plan, 2008
Penobscot Valley Corridor Management Plan, 2008
Million Dollar View Corridor Management Plan, 2009
Fish River Scenic Byway Impressions (extension), 2010
Fish River Corridor Management Plan, 2010
Aroostook County Transportation Study, 2010
Regional Advisory Report (MaineDOT)
Regional Transportation Assessment, 2005
Strategic Investment Plan (Maine DOT), 2006
Existing Transportation Planning Documents in Washington County
Coastal Canadian Corridor Management Plan, 2011 - The Coastal Canadian Corridor focuses primarily on north-south multimodal transportation movements along Maine's international border with New Brunswick, in an area broadly defined as extending from Eastport north to Houlton. Phase 1, covered in this report, addresses the portion of the corridor that is located in eastern Washington County, from Eastport to the Aroostook County line in Danforth. Phase 2 will address the Aroostook County portion of the corridor from the Washington County border in Weston north to the international border crossing in Houlton.
Eastern Interior (Route 6) Corridor Management Plan, 2013 - The Eastern Interior Corridor is generally defined by the east-west corridor between the Canadian border in Vanceboro and Interstate I-95 in Lincoln. It includes the track of the Eastern Maine Railway between Vanceboro and Mattawamkeag. A significant portion of the EIC study area was included in the study area for the generally north-south Coastal Canadian Corridor Management Plan, completed in 2011.
Bold Coast Scenic Byway Corridor Management Plan (follow developing plan here). The Bold Coast Scenic Byway was officially designated as a Maine Scenic Byway on June 8, 2011. The main goal for Byway designation is to promote economic development in coastal Washington County by encouraging tourism that celebrates and supports the Washington County way of life. For more information contact Crystal Hitchings at WCCOG.
Northeast CanAm Connections: Integrating the Economy and Transportation, 2009 (NOTE - link opens new window off-site): Northeast CanAm Connections: Integrating the Economy and Transportation is the title for a study originally called the Northeast Border Corridor Transportation and Economic Development Study. This study will examine the relationship between sufficiency of transportation and economic conditions across the region of central Maine and the northern tier of New Hampshire, Vermont and New York State, as well as along the adjacent Canadian provinces of Nova Scotia, Prince Edward Island, New Brunswick, Quebec and Ontario.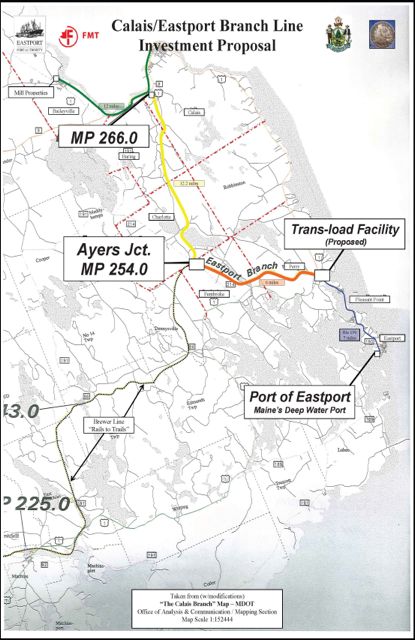 Eastport Freight Rail Restoration Study, 2009 (Chapter 1; Chapter 2; Chapter 3a, Chapter 3b (Note 10Mb file), Chapter 4, Chapter 5, Chapter 6, Chapter 7): The purpose of this preliminary report was to estimate the cost of restoring rail freight service to the port of Eastport and to determine a feasible location, layout and cost for a rail to truck trans-load facility within reasonable distance to the port of Eastport. The results of this report were incorporated in an application for an ARRA TIGER Grant for Federal Stimulus funds (NOT FUNDED) that would have been used to solicit funding to restore vital rail freight access to the port of Eastport.
Port Development Strategic Plan, Maine Port Authority, 2007 This Plan has a primary focus on construction of a world-class container shipping facility for Searsport, but also contains recommendations for Portland and Eastport.
Downeast Coastal Corridor Plan, 2008 - This plan addresses the major east-west connections crossing Hancock County, southern Washington County and a portion of Penobscot County as a group. Included in this broad corridor are Route 1 from Bucksport to Calais, Route 9 from Bangor to Calais, the Calais Branch Railway from Bangor to Calais as well as major collector highways that serve as connectors and short-cuts. The Downeast Coastal Corridor Management Plan is being updated in 2013-2014. Contact Judy East or Sandi Duchesne to join the regional advisory committee.
Blackwoods Scenic Byway Corridor Management Plan, 2004 - Maine State Route 182, locally known as the Blackwoods Road, is a twelve and a half mile journey that connects two historic New England Villages in coastal Hancock and Washington County. The corridor management plan provides readers and policy makers with an understanding of the history, assets, uses and future options for the Blackwoods Scenic Byway. It also describes the partners in this effort, policies for protection and enhancement and an action plan for byway improvements.