Transportation Infrastructure for Economic Development
Rail to Port Alternatives Analysis
To further refine the Eastport Rail Connectivity Study of 2009, the GROWashington-Aroostook working group examined its conclusions and agreed that the preferred location for a rail-to-truck transloading facility is in Perry, Maine, adjacent to an abandoned section of the old Eastern Maine Railway line, approximately seven miles from the port facility in Eastport.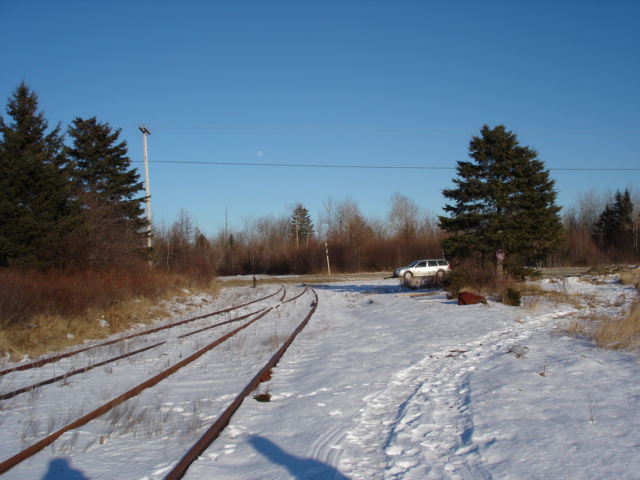 Three other sites in Perry were evaluated by HNTB in 2009, but can be eliminated from further consideration due to increased distance from Eastport and Ayers Junction, increased safety concerns due to the number and location of at-grade road and railroad crossings, significant environmental impacts that would complicate site permitting, and limited potential for future expansion as compared to the preferred alternative.
The current study included an on-the-ground peer review of all four potential transloading locations, and confirmed the site closest to Ayers Junction as the most cost-effective and feasible site for a transloading facility.
GIS mapping of the entire Eastport peninsula and islands provided additional data with which to examine alternatives:
The soil suitability for development map provides a proxy measure to determine construction feasibility and estimate potential environmental impacts on wetlands. The onshore and offshore topography also depicts critical environmental features requiring protection and a general descriptions of substrate soils.
These maps facilitated a preliminary feasibility analysis of potential new routes for SR-190 that could support heavy trucking from the transloading facility (and possibly a future new corridor for direct rail service to the port) while bypassing the Passamaquoddy Indian Reservation at Sipayik.
For more information or to obtain prints of the GIS mapping analysis please contact Judy East (454-0465).
Findings of Alternatives Analysis
Transloading site - preferred alternative
The potential transloading site closest to Ayers Junction, located on undeveloped land to the east of Mahar Lane and Davis Road (identified as Site #4 in the HNTB 2009 study) was confirmed as the preferred alternative for several reasons. Please refer to the GIS maps linked above for more detailed pictorial information to accompany this narrative. Of course any final siting decision would be subject to landowner and regulatory approval.
It is located on higher ground, and only one corner of the lot contains soils of very low suitability for development. The other three sites are significantly smaller, with over 50 percent of their total acreage in soils of low to very low suitability for development; one site contains a waterbody that would require environmental setbacks, further reducing the area that could be used for building construction and paved lots. Therefore, site permitting and construction are expected to be easier and less costly on the preferred alternative site, relative to the other three.
The other three sites, in addition to being smaller in size to start with, all feature significant natural or developed constraints along their borders. There is barely enough room to construct even a modest transloading facility on the available land on these sites, and it would be difficult (if not impossible) to expand the facility in the future as demand increases for freight shipments to and from Eastport. The preferred alternative site offers plenty of space to build and expand.
Two of the non-preferred sites are farther away from Eastport, all three are farther from Ayers Junction and thus would require more rail reconstruction and rehabilitation work prior to opening, and all three would require more at-grade road and railroad crossings for freight vehicles moving to and from the port, creating additional transportation safety concerns.
Rerouted State Road 190 - preferred alternative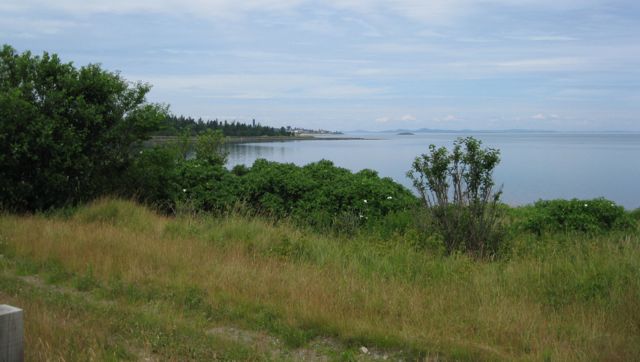 The GIS maps were also used to develop several alternatives for a rerouted SR-190 that could provide more direct access to the port from the preferred alternative site for the transloading facility, while bypassing the Passamaquoddy Indian Reservation at Sipayik. SR-190 currently bisects the reservation, and tribal leaders are already troubled by the amount of tourist and freight traffic using the road (average annual daily traffic of 3860 in 2009, and 3670 in 2012).
Construction of a new transloading facility is likely to greatly increase through traffic and the percentage of heavy trucks traveling to and from Eastport each day, so it makes sense to start thinking now about a new route for SR-190 that will actually reduce rather than increase motorized traffic impacts in Sipayik, where many residents travel by bicycle or on foot. Tribal leaders and marine scientists are also concerned about the decreased productivity in tidal flats and fishing waters near the reservation, due to the loss of natural tidal flushing action since the construction of the SR-190 causeway.
Rerouting the highway to bypass the reservation would allow for faster and more direct movement of freight vehicles to the port; it would allow the causeway to be removed, greatly improving the marine environment in the coastal waters adjacent to the reservation; and the resulting dead-end of the existing SR-190 highway at the Carlow Island strait would limit vehicular traffic on the reservation to just residents, employees, delivery trucks, and visitors – a win-win-win for all concerned.
And, as noted above, any final siting decisions would be subject to landowner and regulatory approval, and successful securing of publc and private funds to complete construction.