Local Food in Washington County
Local Food System Planning
As energy costs rise, a food system that relies on shipping food tremendous distances is increasingly unsustainable. Local food is also fresher and supports our local economy. Indeed USDA Rural Development in Maine has indicated "the development of local and regional food systems is a critical component of its 2012-2015 Strategic Plan."
Washington County producers, consumers, distributors and organizations concerned with food security are working on multiple fronts to strengthen the food system. These include:
A strong local food system is comprised of several working parts: Producers, processors, distributors, consumers and a support system. The Vermont 'Farm to Plate' Strategic plan provides the Elements of a Food System in Figure 1.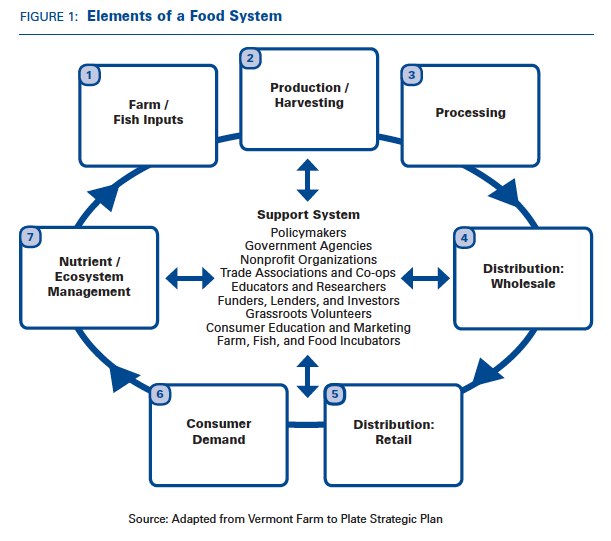 Washington County farmers have been operating, for the most part, without processors and distributors.
When it comes to processing, Sunrise County food producers face the difficult choice of:
selling to a large processing company; often for a very low price

processing themselves; taking on very high costs of building a licensed facility, or

paying for shipment to distant processors
Those meat processors who do serve Washington County are only licenced to prcoess their own animals or to process animals for the owner's consumption. Blake's Slaughtering and Custom Meats in Alexander is working through multiple inspections and regulatory requirements to become a licensed meat-processor. Washington County farmers must still truck their products on 4-8 hour round-trips to reach licensed meat-processing facilities.
Maine Coast Heritage Trust completed a Pre-Feasibility Report for a Value-Added Wild Blueberry Processing Enterprise in Eastern Maine in 2012 (7.8MB PDF). They found that, even using conservative numbers, there is a vast and growing market for Maine Wild Blueberries and value-added products. The problem? The producers of value-added products cannot obtain processed blueberries - pulp and juice. This is an area that is ripe for entrepreneurs.
In a survey and interviews conducted by Washington County Council of Governments in the fall of 2012, food producers overwhelmingly identified the need for distribution center(s) in Washington County. Although some farms share their trucking capacity with smaller farms and offer pick-up services, this is time-consuming and unsustainable. Distribution is another area ripe for entrepreneurial focus.
Input from the five Washington County Food System meetings in the Spring of 2013 confirmed these infrastructure needs.