Local Food in Washington County
Food Hub Development
Growth in local food consumption by our schools, institutions and wholesalers could significantly increase the viabilty of the local food economy in Washington County. Though schools, hospitals, and large retailers may wish to purchase local food they encounter simlilar challenges.
The barriers to local food market expansion AND the solutions for large scale buyers that could significantly increase use of local food are well documented in our region1 and are the same as those identified across the nation2.
Barriers to Market Entry or Expansion:
inconsistent quality and out-of-season availability
inability to obtain sufficiently large volumes of products
inefficiencies/irregularities in ordering, delivery and invoicing of products
irregular/unavailable pricing and product lists from farmers
requirements for contracts
logistical difficulty of dealing with multiple small suppliers
lack of space, facilities and/or skills to use a fresh product
lack of prepared or frozen products
labor shortages for harvest and marketing
Common Solutions to Meeting Large Institutional Demand
regular order and delivery schedules
farmer co-op/regional brokers to allow "one-stop shopping", preferably on-line
intermediary to pack, distribute, or ship local products
mid-scale aggregation and distribution systems
supply chain infrastrcuture (vehicles, temperature controlled storage facilities, processing plants)
reduce regulatory and processing barriers for meat and value-added production
easy-to-use record keeping software and information labelling for farmers
more refrigeration, freezer, dry storage space for institutions
Food Hubs - A Pivotal Part of the Solution
The challenges and solutions above point to a variety of responses including training, capital, technology and building of relationships.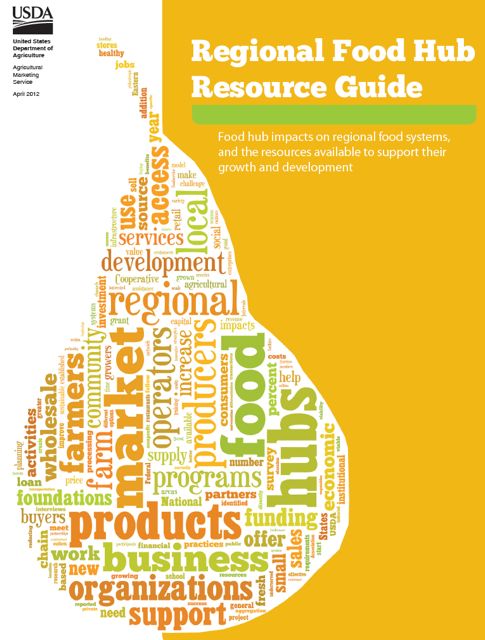 The single and most effective solution that is growing in Maine and across the country is the creation of food hubs to create a large, consistent and reliable supply of local and regional food.
A truly great resource on food hubs is the 2012 USDA publication3 pictured at right that provides a good definition of a regional food hub:
A regional food hub is a business or organization that actively manages the aggregation, distribution, and marketing of source-identified food products primarily from local and regional producers to strengthen their ability to satisfy wholesale, retail, and institutional demand.
Food Hubs in Maine and Washington County and throughout the nation...
The USDA has compiled
a working list of Food Hubs throughout the United States
that lists food hubs in 42 out of 50 states. It is current to January 15, 2014 (as more food hubs are forming all the time) and provides name, city, state, web address, business model, and legal status.
The 3 Maine Food Hubs listed on the USDA's working list include:
Though current to January, 2014 the USDA publication does not include the following Maine Food Hubs:
Do you know of others? E-mail Judy East so we can list (and learn from) others!
Cited Works:
1 - Downeast Business Alliance and Healthy Acadia/Healthy Maine Partnership. Downeast Farm & Food Cluster Project; Farm to Cafeteria - New Markets, New Opportunities. May 2009.
2 - Martinez, Steve, et al. Local Food Systems: Concepts, Impacts, and Issues, ERR 97, U.S. Department of Agriculture, Economic Research Service, May 2010.
3- Barham, James, Debra Tropp, Kathleen Enterline, Jeff Farbman, John Fisk, and Stacia Kiraly. Regional Food Hub Resource Guide. U.S. Dept. of Agriculture, Agricultural Marketing Service. Washington, DC. April 2012