Brownfields & Economic Renewal
Washington County - Brownfields Redevelopment Success
Success starts at the beginning of the process. The Washington County Brownfields Advisory Committee, who help to select properties use a set of ranking criteria for potential sites that is based on many factors (click here for the Washington County site ranking form). Strong redevelopment potential is high among them. Properties also score points where redevelopment is supported by available infrastructure and when the community has expressed a policy about desirable locations for development.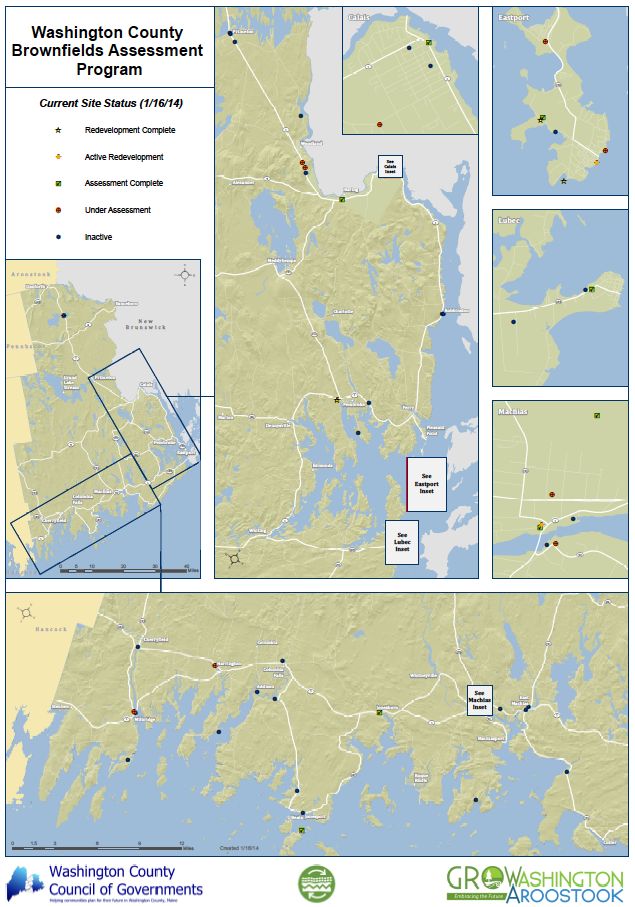 A threshold requirement is landowner willingness - site assessment is entirely voluntary at the direction of the property owner.
The image at right depicts a poster size (2 by 3 feet) map of current Brownfields projects in Washington County. Note that the file is 9MB - contact Judy East if you would like to see a printed copy.
Examples of successful redevelopment include:
tank removal and re-use of a former Route 1 gas station,
re-use of a Maine DOT maintenance garage by the town of Pembroke;
demolition of a former sardine factory with contamination by lead and organic compounds into a now thriving indoor lobster storage facility, and
repurposing of an old Five and Dime store into offices, computer training lab, and community arts space.
These and other successes earned the Washington County Council of Governments the 2012 Governor's Award For Environmental Excellence in the Public Sector.
Pictured below are Governor Paul Lepage, WCCOG Board President Betsy Fitzgerald, GEI Brownfields Consultant Todd Coffin, Maine DEP Commissioner Patricia Aho.