Water Infrastructure Investment
Water Systems Assessment
With enormous assistance from RCAP Solutions the GROWashington-Aroostook project has a first-of-its-kind-in-rural-Maine look at our largest community drinking water systems.
RCAP Solutions analyzed 23 drinking water systems in the most populated cities and towns of our region, 15 in Aroostook County and 8 in Washington County.
Water systems were chosen for analysis if they had:
the capacity to service new economic development, and
a complete data set describing them (especially data from the Maine Public Utilities Commission and sanitary surveys from the Maine Drinking Water Program).
Development Capacity Analysis
RCAP Solutions created a matrix of the drinking water systems data to determine the utilities' ability to cope with development opportunities using 15 benchmarks of capacity. A higher benchmark score reflects better utility capacity with a maximum total points of 77.
There are four benchmark groupings - Demographics, Technical, Managerial and Financial - that allow analysis of water utility sustainability. Each benchmark also points to areas where technical assistance is needed.
What does each Benchmark Tell Us About System Capacity?
Demographic Benchmarks
% of users as a % of town population - describes service area size and system development
median household income and # of low to moderate income households - tells us about the income capacity of users to shoulder improvements
Technical Benchmarks
Source Protection - tells us about growth capacity given protection of the source
Unaccounted for Water and Asbestos Pipe - informs pipe replacement needs
Managerial Benchmarks
Plant Capacity vs. Average Daily Demand - tells us that growth is limited without plant improvements
Excess Source Capacity over Plant Design - tells us the ability of the source to meet growth opportunities
Financial Benchmarks
Users Related to Median Household Income - informs eligibility for grants and possibly neglect to true system operating costs
% of Assets Depreciated - customary accountant's way of revealing equipment age
Ratio of Long Term Debt to Connections - describes the debt burden on customers
Operating Cost per Person - tells us about operating efficiency (may reflect aging)
Financial Ratios - speaks to the ability of the system to manage revenue and expenses
Last Loan Date - describes the system's ability to stay current with replacement and improvements
So What Did We Find?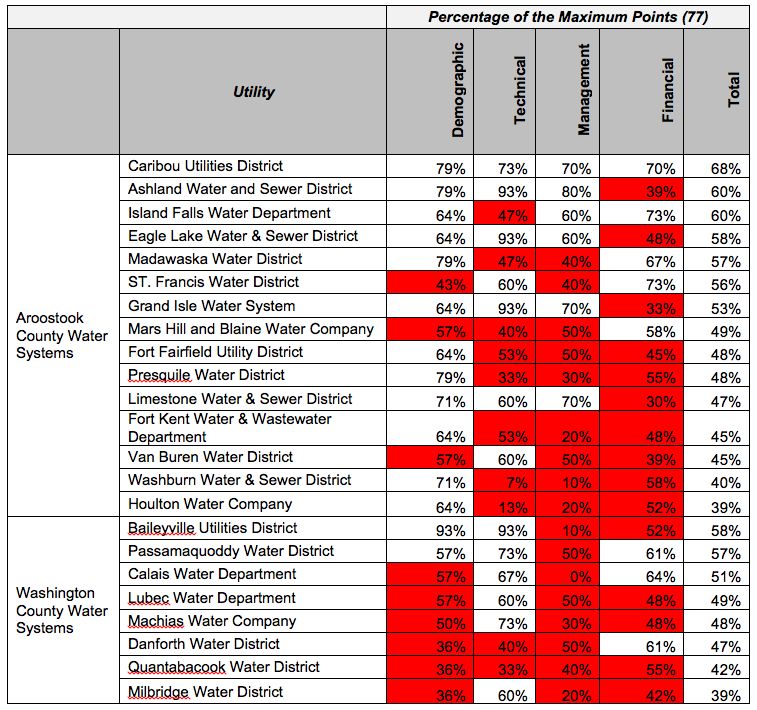 Each utility is different with respect to demographics and the capacity of source, treatment, storage, fire protection, distribution, management and finances.
Higher benchmark score reflects better utility capacity with a maximum total points of 77. Summary scores for each benchmark category (shown at right; click here or on image for PDF of chart) for the water districts are expressed as percentages of the maximum possible points.
Where a score is less than 60% of the maximum possible points it is highlighted in red. Red highlighted scores point to areas where the water system could use investment and/or technical assistance to make improvements.
While the analysis looks at development capacity for the system, we recognize that preference for site location of economic development will be dependent upon specific developer requirements.
In addition, although this study highlights benchmark strengths and weaknesses relative to each utility, prudent handling of conclusions about infrastructure capacity would include further utility involvement and discussions.
A Note About Data
The compiled data represents a water utility snapshot of the year 2011. The data reveals the status of the existing service area. If economic development exists outside the current service area, many cost variables would require analysis of the particular impact to the utility. The Maine Public Utilities Commission Extension Rule (407_c65) states that only those benefiting from a particular line extension will share the cost of the line extension.
Data for wastewater systems were not readily available especially since wastewater utilities are not required to file a report with the Maine Public Utilities Commission.
Sources of Data
RCAP Solutions compiled utility information from the following sources: