Brownfields & Economic Renewal
Property Transactions & Brownfields Redevelopment Seminar
University of Maine at Machias - Clipper Lounge Wedneday June 25th, 2014 8AM (Registration) to noon
Program starts at 8:30AM
The Washington County Council of Governments, in partnership with our environmental consultant GEI Consultants, the USEPA and the Maine DEP Brownfields Program, is hosting a seminar for Planners and Real Estate Professionals on Brownfields Property Transactions and Redevelopment with a focus on Downeast Maine.
UMM Summer Parking Flow and Directions to Clipper Lounge
The seminar is approved for 3.0 Continuing Education Units for Real Estate Professionals.
Three Certification Maintenance credits from the American Institute of Certified Planners are pending.
Brownfields are abandoned, idled, or under used industrial and commercial facilities/sites where expansion or redevelopment is complicated by real or perceived environmental contamination.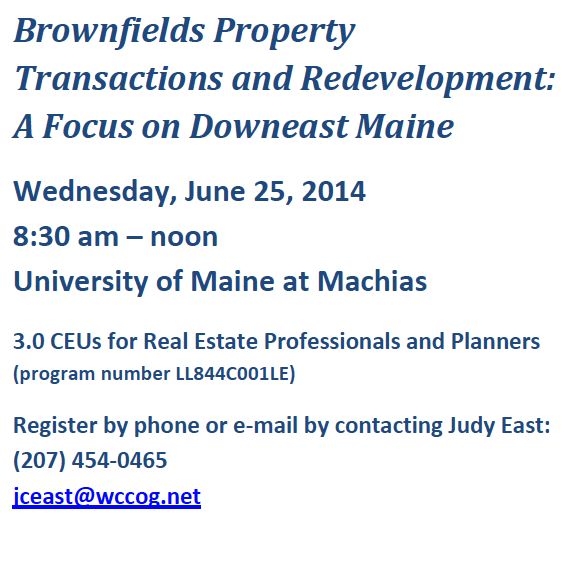 Powerpoint presentations provided at the seminar are posted here:
Brownfields Downeast: A Glass Half Empty or Half Full? - (NOTE large file 15.5 MB) Todd Coffin, GEI Consultants
Legal Perspectives on Environmental Due Diligence & Liability Protection: An Overview - Jonathon A. Pottle, Esq., Eaton Peabody
Brownfields Funding Sources - Ben Guidi, Maine DEP
Brownfields Redevelopment Funds to Leverage By... - Judy East, WCCOG
Voluntary Response Action Program - Nick Hodgkins, Maine DEP