Local Food in Washington County
Food Desert or Not?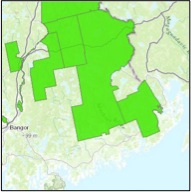 Washington County is often deemed a "food desert", a term that comes from the Food Access Research Atlas of the USDA. In a food desert "those with low incomes have limited access to supermarkets, supercenters, grocery stores, or other sources of healthy and affordable food" (Emphasis added).
Note however that the two Census Tracts (9551, 9559 depicted in green at right) in Washington County where these criteria are met include large minimally populated areas and account for only 18% of our population.
Countywide there are indeed many low-income households, also many with inadequate transportation that limits access to fresh food. However 82% of the population resides in the census tracts NOT deemed a "food desert" and 56% of low-income households reside in the service centers where the existing supermarkets, supercenters and grocery stores are located.
Furthermore, the USDA Food Access Research Atlas does not fully reflect data on "other sources of healthy and affordable food" in Washington County.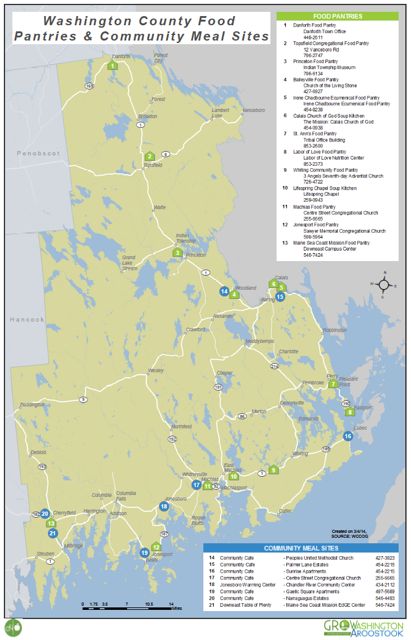 And Washington County has a great deal of food and a food system that is growing. The Washington County Local Foods Map depicts over 80 farms, several active farmers markets and buying clubs, producers and retailers of local specialty food, and abundant seafood.
There is an active local food movement in Washington County that is growing within the county and reaching out to the rest of the state to support a regional (Maine and New England) food system.
In the face of this potential plenty we do indeed have significant food security issues mostly as a result of the high rates of poverty. Washington County Food Pantries report that demand outstrips supply, yet also report difficulty in distributing fresh vegetables. Many do not have the experience or knowledge of preparing whole, fresh foods for consumption. In response pantry organizers provide classes on whole food cooking.
The 11 by 17 poster of Food Pantry and Community Meal Sites shown at right can be downloaded by clicking on the image.
If you would like to add a new food pantry or community meal site to the map please contact Judy East (454-0465).