Climate Change & Infrastructure Resilience
Climate Change Impacts in Maine and the Region
Climate change, the long-term broad patterns of weather, is happening in Maine. It is well documented[1] by more frequent and stronger storm events, higher tides, hotter summers, greater precipitation, shifting ranges of plant and animal species, expanded ranges of southern pests and disease, rising sea levels and acidification of the waters of the Gulf of Maine.
Click here to download the 100+ year trends (1895-2013) in average temperature and precipitation for Maine and Coastal Maine. Not only is Maine experiencing higher temperatures and more precipitation, each is more variable especially in the coastal zone.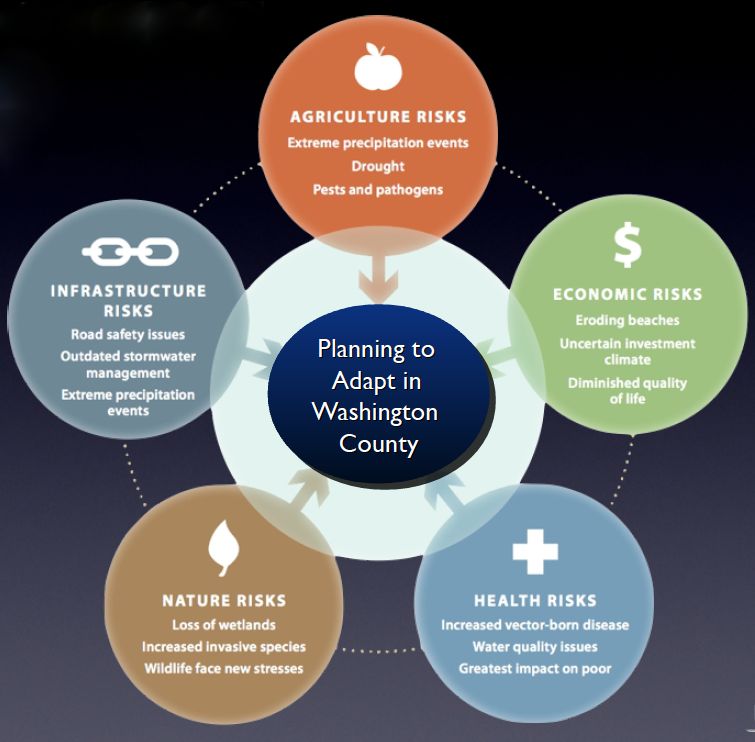 The short and long term impacts associated with climate change are significant and far-reaching.
Storm severity and frequency has and will continue to cause flooding, erosion and property damage.
Sea levels will rise at an accelerated rate and threaten coastal infrastructure including roads, rail, working waterfronts, water and sewage treatment plants and many downtown centers.
The temperature and salinity of the Gulf of Maine is reducing the productivity of the entire aquatic food chain with significant declines in zooplankton and stresses on shellfish.
Pest species like Lyme disease bearing ticks are reaching further north as winters become milder.
Agricultural production is threatened with both drought and extreme precipitation as well as new pests and pathogens with expanded ranges and survival.
The forest products industry might benefit from higher growth rates for some species. However a longer mud season and shorter periods of hard freeze will reduce harvest opportunity and large shifts in species composition (from insect, disease, or dieback) could ripple across the forest products industry.
The public health impacts are also a concern, particularly for the elderly or infirm, as extreme temperatures increase risk of heat stroke and, during coastal flooding, isolation from services or emergency response.
Natural systems also face loss of wetlands and wildlife are exposed to exotics and temperature-related stress.
Some changes may bring more tourism to Maine; increase forest productivity (and carbon sequestration), and increased variety and security in food production.
All of these changes must be monitored and strategies adopted to adapt and reduce our vulnerability to their most dangerous effects.