Growth Management Law Change
GIS Map Instruction Guides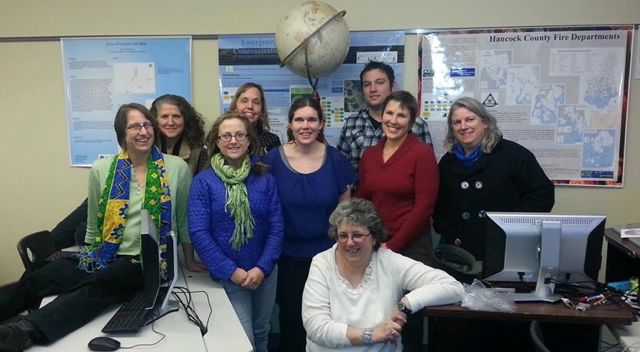 Instruction Guides (in PDF format) for all GROWashington-Aroostook GIS mapping tools can be downloaded below. WCCOG has also posted short instructional videos for Beginner and Intermediate Users and for Advanced Users.
The maps and instruction guides for Washington County were made possible by a long standing collaboration between the Washington County Council of Governments (WCCOG) and the University of Maine GIS Service Center (UMM-GIS).
While many students have contributed to the mapping products that are now on-line, the Community Applications in GIS class (Fall, 2013) was instrumental in pulling together the work of several years of students and many volunteer hours by municipal officials in Washington County. Download the GIS Projects Summary for the March 23, 2014 presentation to the University of Maine system Board of Trustees here.
Pictured at right (Back row) WCCOG Executive Director Judy East, Laura Teisl, Alex Bradley, (Middle Row) UMM-GIS Service Center Director Tora Johnson, Amy Dowley, Meghan Cranford, Lisa Ravis, Bev Lamoureaux, (Front Row) Lynn O'Kane.
Regular online mapping users TAKE NOTE: Please open no more than 3 online maps at a time and remember to close them when you are done. Leaving the online maps open or opening 20 at a time (it has happened!) crashes the system for other users ~ Thanks for your cooperation!!
Please take our 5 minute User Feedback Survey to improve the online services and training materials - thanks!
Planners Maps
Planners Map Instructions (Version Dated April 26, 2016)
Public Parcel Viewer
Public Parcel Map Instructions (Version Dated April 26, 2016)
Local Food Mapping
Local Food Network - Complete Guide
Local Food Network - Complete Tool Help
Local Food Network - Navigating the Map
Local Food Network - Quick Start Guide
Town and Bay-Specific Storm Surge Scenarios
Storm Surge Scenarios Instructions (Version Dated May 18, 2015)
If you would like to arrange training for your municipal Boards and officials on use of the on-line mapping tools please contact
Judy East
(454-0464).